Upcoming Events
(click event for details)
Policy on Merit Badge Opportunities
Effective immediately (11/2/2013, 6:00p), the Golden Eagle District will be enforcing the following policy in regards to Merit Badge Opportunities that are presented by third parties.
Merit Badge Days are addressed in Section 7.0.4.10 (Charging Fees for Merit Badge Opportunities) of the 2013 Guide to Advancement. In short, merit badge opportunities may not be used as fundraisers. Therefore, any fees must be limited to the recovery of expenses for such events.
In order to ensure this, any planned Merit Badge Opportunities must be authorized and approved by the Advancement Committee in advance of any promotion, whether electronic or hardcopy.
Approved events will be denoted by BOTH of the following items:
Any advertisement material (whether electronic or hardcopy) must contain the following verbiage: "This event has been approved by the District Advancement Committee".
The event will be listed on the Golden Eagle website, under Merit Badge Opportunities. If an event is not listed on this web page, regardless of what any printed material may indicate, it is not an approved activity.
Any merit badge work conducted at an unapproved event may jeopordize the completion and recording of the advancement.
For your convenience, the official policy can also be found on the Documents page of this website.
Friends of Scouting

Progress
(as of May 24, 2013):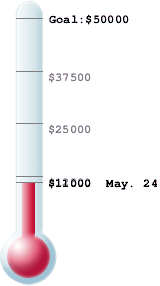 Friends of Scouting is an annual direct-solicitation campaign, reaching out to Scout families, service organizations, and businesses. Friends of Scouting is the council's largest source of income.
It costs our council $250 to provide one year of quality program for each Scout.
What does a Friends of Scouting investment provide?
Local programs and activities throughout the council
Camp scholarships, uniforms and registration fees for youths who otherwise could not participate
Service centers that coordinate Scouting activities and provide customer service to members
Accident and liability insurance to protect both youth and adult members
Professional staff who counsel, guide, and inspire volunteer leadership
Camps and facilities available for year-round camping and Cub Scout family outdoor events
Opportunities to attend summer camp and high-adventure events
Advancement programs where Scouts are recognized for learning and achievement of goals they set establish
Distribution and development of literature and training-materials
Leadership training for young people who will become future community leaders?
We need your help. Please consider making your donation today!
Welcome
The Golden Eagle District of the San Gabriel Valley Council proudly serves scouting units in the communities of City of Industry, Hacienda Heights, La Puente, Rowland Heights, West Covina, Valinda, Diamond Bar, Pomona and Walnut.