July 8, 2017: Life to Eagle Seminar

Please join us for a very important Life to Eagle Seminar on July 8, 2017, from 7:30p - 12:00p. There is no cost for this seminar.
St. Matthews United Methodist Church
15653 Newton St.
Hacienda Heights, CA 91745
Map
We'll provide delicious breakfast burritos before the seminar!
We will be specifically addressing the Life to Eagle process, focusing on all steps necessary to advance from Life Scout to Eagle Scout.


For planning purposes, we ask that you please register below so that we can get an accurate head count.
~ Required items are indicated in red. ~
July 4, 2017: Hacienda Heights "I Love America" parade

Hacienda Heights is hosting its 30th Annual "I Love America" Fourth of July parade.
The 1.5 mile parade route runs along Stimson Ave, starting at Colima and ending Steinmetz Park.


The schedule is as follows:
8:00 - Parade assembly
9:00 - Parade start
10:00 - Parade end
The Golden Eagle District is extending an invitation to all Boy Scouts. We are seeking a minimum of 50 Scouts to carry flags at the start of the parade.
Scouts wishing to paricipate should contact Mr. Bongolan. Entire units may participate as well by contacting Mr. Wallach. Contact information is in the event flyer.
Events
July 1, 2017: Jim Davis Beautification Day in HH
Volunteers 11 years of age and older are asked to gather with brooms, shovels, rakes and clippers to pick up trash and improve the appearance of the community in time for the for the 30th Annual July 4th Parade (see below).
The event is hosted by the Hacienda Heights Improvement Association and is named after Mr. Jim Davis, a former HHIA president.
The gathering location is:
Hacienda Heights Baptist Church
2100 S Stimson Ave
Hacienda Heights, CA 91745
Map

The event starts at 8:00 and concludes by 12:00 noon.
District Camporee: April 21-23, 2017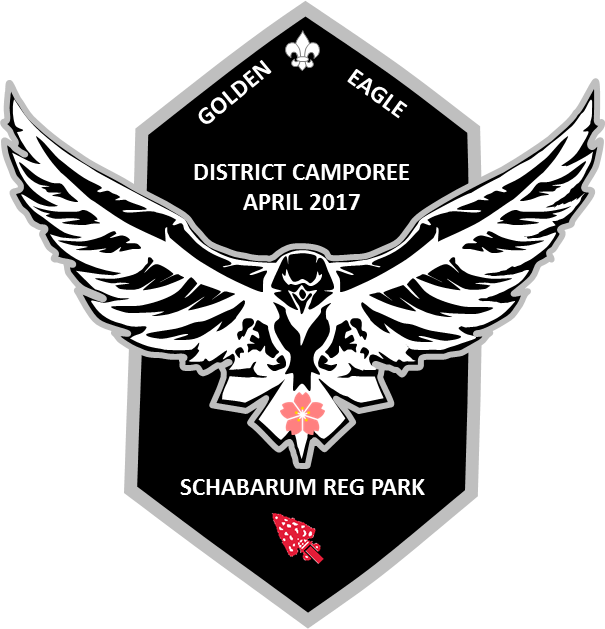 The Golden Eagle District will be holding its annual Camporee at Schabarum Regional Park in Rowland Heights.

Come ready to experience a weekend of fun!
The cost is:
$16: Scout or Adult, by April 14th (additional $5 per person "late fee" after)
$5: Day use (not camping)
Registration will be available soon.
Registration and payment can be made through the GLAAC Registration Page.
Online registration will close on April 19th at 11:59pm. After this, registrations will only be accepted onsite, but will incur the additional $5.00 "late fee", per person.
We encourage everyone to take advantage of our "fast pass" check-in process on April 13th at St. Matthews United Methodist Church. For this, all registrations and medical forms, for the entire patrol, must be submitted in together.
Important Information
District Dinner: February 4, 2017
The Golden Eagle District will hold its annual District Dinner and Recognition Ceremony on February 4, 2017.
West Covina Elks Lodge
841 West Merced Ave.
West Covina, CA 91790
Map
Program
6:00p Fellowship

7:00p Dinner

8:00p Awards

Ticket prices
We are asking every unit to:
Please consider donating items to be used for door prizes.
Please bring their unit flag for display at the dinner.
Each Unit (Pack, Troop, Team, or Crew) has the opportunity to select adults to receive the Baden-Powell Award. This is a great opportunity to publicly thank individuals who have given their time and efforts to make scouting successful within your unit.
Nominations for the Baden-Powell Award may be accepted until January 14, 2017.
Additionally, we will honor the recipient(s) of the District Award of Merit for those individuals that have given exceptional service to the Golden Eagle District.
Nominations for District Award of Merit are due by January 14, 2017.